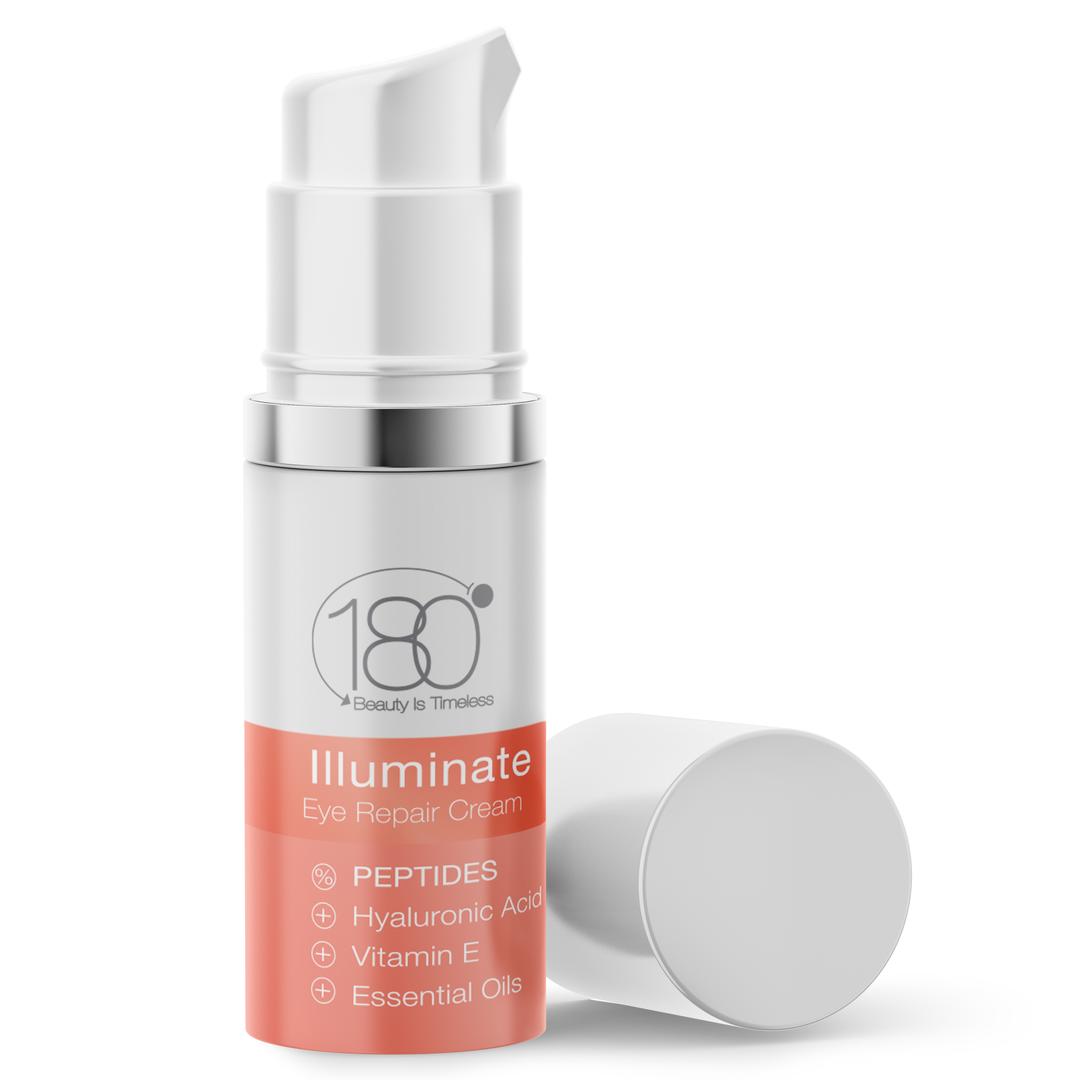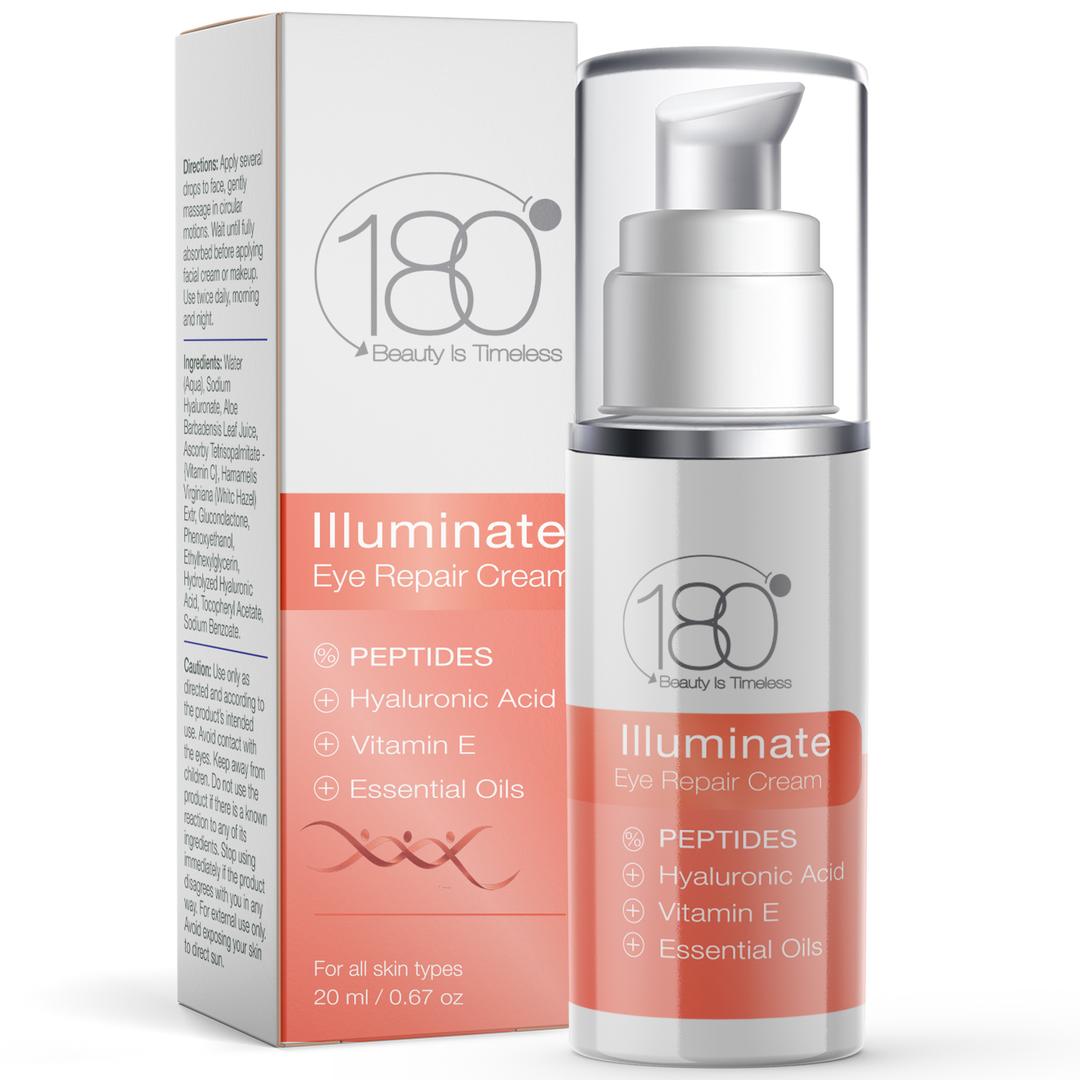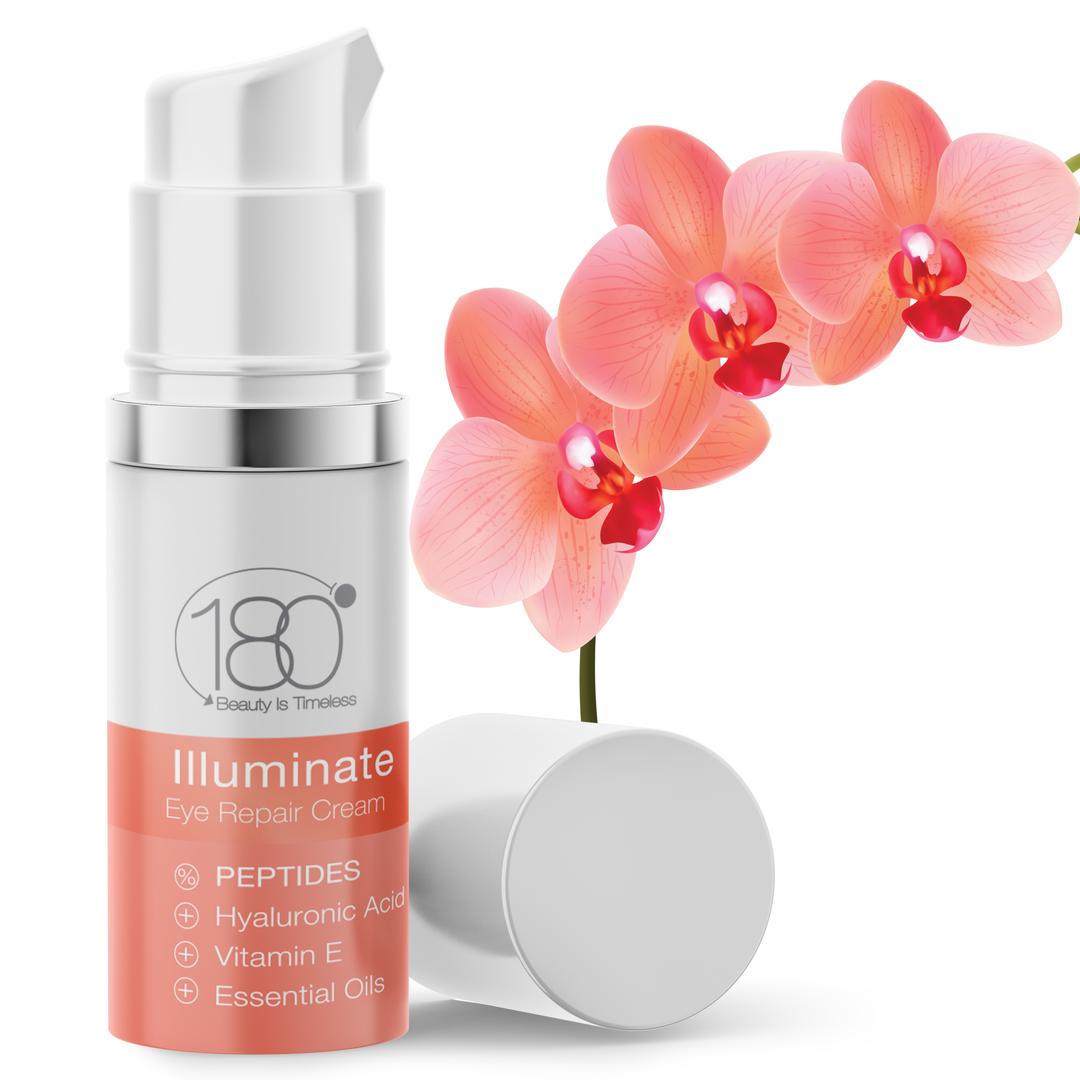 "After 10 days of this magic eye cream, I'm completely in love! "
- KRYSTLE Z, 180 Cosmetics Customer
A SILKY ULTRA FINE BRIGHTENING EYE REPAIR CREAM - ASSISTS IN REDUCING THE PUFFINESS, DRYNESS, AND HYPERPIGMENTATION
& Free Delivery in the USA/CA/UK
for orders $50+
100% No-Risk Money Back Guarantee

A SILKY ULTRA FINE BRIGHTENING EYE REPAIR CREAM - ASSISTS IN REDUCING THE PUFFINESS, DRYNESS, AND HYPERPIGMENTATION
ENRICHED WITH A POWERFUL PEPTIDES COMPLEX

"Super hydrating and brightening eye repair cream. After a few days, my eyes look brighter and fresher. I will be buying again!"

IMMEDIATE TIGHTENING AND STRETCHING EFFECT - Our 180 Cosmetics Illuminate Eye Repair Cream brightens up, hydrates and smooths the skin, while regaining firmness, elasticity and softness

180 Cosmetics' Illuminate Eye Repair Cream brightens up and hydrates the skin intensely while promoting its softness and smoothness. The skin becomes more stretched and tighter, and ultimately extremely hydrated.
LOVING THE WOMAN IN THE MIRROR -
At 180 Cosmetics , we put our money where our mouth is when it comes to our products .
Give us a month with this anti aging daily moisturizer and watch your skin turn smoother and more supple right before your eyes .
Why?
Because even though you can't turn back the hands of time, you CAN minimize its effects on your skin using our everyday moisturizer .
And we want you to fall in love again with the woman in the mirror
SIMPLY PUT, OUR HYALURONIC ACID FACE CREAM WORKS
Why? Because our state-of-the-art formulations are made with the very best active ingredients, the absolute highest quality hyaluronic acid on the market, and stronger concentrations of vitamins , minerals , and essential oils that moisturize, plump, and revitalize your skin from the inside out.
5 MORE REASONS TO BUY FROM US:
- What people are saying about our Eye Repair Cream -
★ ★ ★ ★ ★
"I am a huge 180 cosmetics fan, so when I saw they've updated their eye cream, I knew I needed to try. I bought the older version twice before so I know I can be completely sincere when I say - this is a one of a kind cream. It is so soothing and I see a significant difference to the sagging and puffiness under my eyes. Amazing."
- CLAIRE, UT
★ ★ ★ ★ ★
"I have already bought this twice. I'm only 34 years old but my skin was never great, uneven, and with many breakouts. My esthetician recommended I'll use hyaluronic cream and a vitamin c serum to even out my skin tone so I looked for one that had both. Ever since starting to use it, I see such a difference I have fewer breakouts and my skin looks supple and smooth. Love it."
SIERRA, NJ
Love this? Then you also may enjoy:
180 COSMETICS WAS FEATURED IN...